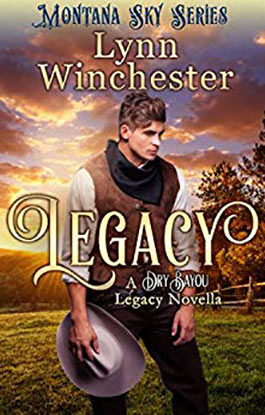 Dry Bayou Legacy: Book 1
Joanna Stopay isn't in Morgan's Crossing to visit her godmother, as everyone thinks. She's in town to find the man who killed her brother. Her plan for justice is working perfectly, until a smiling fool of a farmer's son ruins her chances of nabbing the bandit who stole everything from her.
Timothy Hanlon is excited about his first adventure away from his family in Dry Bayou, Texas. He's come to Morgan's Crossing, Montana, to earn his fortune, but one nearly fatal encounter in a dark alley ties him to a very unlikely creature: a woman in trousers. JoJo is as feisty as she is beautiful, and her dangerous plan to find her brother's killer can only spell trouble…so why can't Tim stop himself from helping her?
JoJo doesn't have time to fall for Tim's charm, not if she wants to make Dalton Hess pay for his crimes. Tim Hanlon is too smart and much too distracting, but when these two get caught in a trap, JoJo must learn to lean on him to survive.
When these two young adventurers find what they've been searching for, will it be love or vengeance?
BUY EXCLUSIVELY AT AMAZON