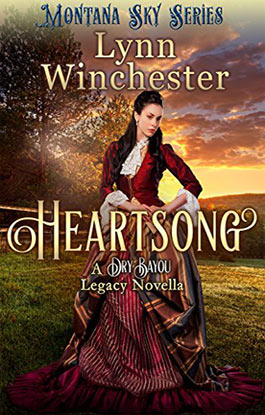 Dry Bayou Legacy: Book 2
After years of living in her vibrant twin sister's shadow, shy and awkward Henrietta 'Rhetta' Hanlon is ready to spread her wings, and that means heading north to Morgan's Crossing, Montana. Maybe she'll be able to be herself in the wide open spaces...
The child of a Lakota woman and an American Army Colonial, Mahkah 'Mac' Solomon is caught between two worlds, seeking a place of his own, a place where he can find that one thing his heart is missing. Working at the Wheeler Hills ranch, his heart yearns for something more, and he finds it when lovely, sweet Rhetta comes to visit.
Unused to any man's attention, Rhetta can't seem to shake her growing interest in the handsome, brooding ranch foreman. His rare smiles light her afire, and his gentle touch makes her soul sing. But is it her he's really interested in, or the woman who looks like her?
Though wary of her own feelings, when her sister is kidnapped, Rhetta must depend on Mac to help save her sister's life. When these two burdened spirits are thrown together, will they find love under the big blue sky or will they allow their fears to silence the song of their hearts?
BUY EXCLUSIVELY AT AMAZON