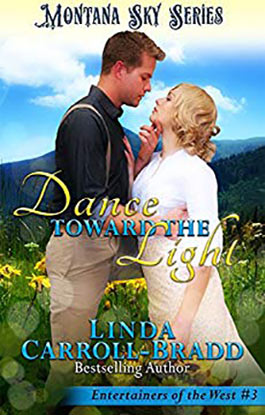 Entertainers of the West: Book 3
Ex-vaudevillian Dorrie Sullivan is restless, looking for a new occupation. A community dance is just what the citizens of Morgan's Crossing needs, and she has the expertise to host it. From the first night, things have a way of not going as planned, but Dorrie vows to persevere. Even when a mysterious stranger who moved into the shop next door drives her to distraction.
Devastated emotionally and physically by the past winter, trapper Valerik Andrusha travels to Morgan's Crossing seeking refuge with his brother. Instead, Valerik meets the vivacious neighbor who has a knack for drawing him from his depression.
The dances are a success and to help Dorrie, Valerik fights past his reserved nature and shares his musical talents. Although she's drawn to Valerik's kindness, Dorrie can't open her heart to a man she thinks won't stick around. When the summer ends, the pair must make tough decisions about where their futures lie--together or apart.
BUY EXCLUSIVELY AT AMAZON